Looking to get a bitcoin wallet? Need one more wallet or just going to start to receive bitcoin payments. You should check CoinBase.

Get a wallet on CoinBase
It is easy to sign up and free. First time in bitcoin world you How to start earning bitcoin?, just few clicks will let you earn bitcoin.
CoinBase allow you to send/receive, buy/sell bitcoin online. If you are running a business and want to get paid in bitcoin CoinBase will help you to create a merchant profile.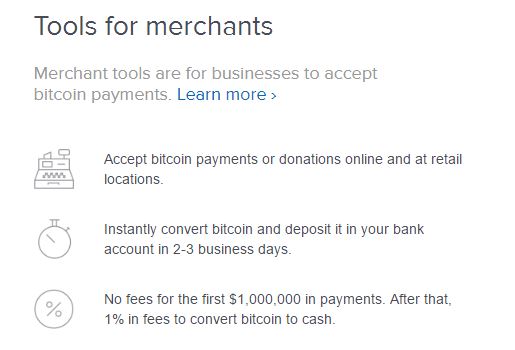 There 1% fees to convert bitcoin into cash, your first $1,000,000 payments is without fees.
Merchant profile allows you to receive payments also donation as in PayPal.
Create merchant profile in a click
Log in and hover mouse point over your name displayed on top right side and then click "Advanced" option where you can see more links to see bitcoin transaction and history.
Login to CoinBase – mouse hovers to your name top right – Click to Advanced – Merchants on next page.